The Gene Keys Venus Sequence Retreat
For those participating
(or considering participating) in ...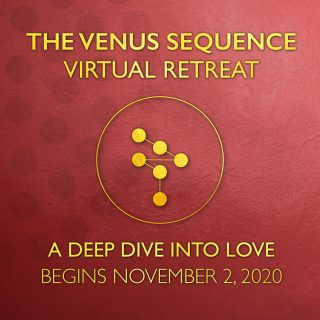 Some of you may already be very familiar with the Gene Keys and have heard about the upcoming 6 month-long online journey called The Venus Sequence Virtual Retreat. Some of you may have no idea what I'm talking about. Others of you may have already signed up for the retreat. And some of you may be sitting on the fence, not sure whether it would be in your Integrity (or even possible!) to participate in both journeys.
I thought I'd create a little space here to share a few words about the Retreat, and more importantly, how it might connect with the Wisdom Wheel of Integrity Course. My intention is to support you in your journey should you choose to do both, or in your decision-making process if you're not sure what's right for you.
First, here's a short invitation to the Venus Retreat that I lifted from the COURSES section of the Gene Keys website, where you'll find much more information:
(November 2nd 2020 - April 30th, 2021)
"Join together with others in the Gene Keys community for a six month virtual retreat into your Venus Sequence. This will be an epic 6-month journey into love, relationships and emotional transformation. This retreat includes weekly live events and monthly contemplation themes, hosted by Richard Rudd and Tanmayo Lawson... The retreat opens on November 2nd. Registration closes October 30th."
Practically speaking, it might be helpful for you to know that there are no date overlaps between the two courses. You can participate in both without missing any sessions. (We'll also be making Replays available here in case you miss a session or two, and I know that the Gene Keys will do the same.)
Another good thing to know is that the Wisdom Wheel of Integrity Course will be coming to a close just when the Venus Journey really starts kicking in (around the time of the second webinar). So in the big picture, you won't be participating in both journeys at the same time for very long.
Of course, both journeys are deep, rich and worthy of your care and attention. Only you know what kind of time and energy you have to dedicate to any given process. I can also promise you that a full-hearted commitment to this journey will provide you with more than enough support for a deeply transformative experience.
If you do sense you have the spaciousness for the Venus Retreat as well, let me share how I sense the Wisdom Wheel of Integrity Course can support Venus Travelers.
As shared above, the Venus journey is all about love, relationships and emotional transformation… all of which blossom to their fullest when we are grounded in our Integrity. 
Integrity is deeply related to what we Gene Keys enthusiasts refer to as Core Stability. We need Core Stability (inner integrity) in order to live out our Purpose in life. The first Venus webinar (on November 9th) is called "Opening the Sphere of Purpose." So, if you're a Venus Traveler, at the moment you enter the portal of your PURPOSE, you will have two Wisdom Keepers at your side – one softening you through Loving-Kindness, and the other grounding you in Healthy Self-Respect. You will also have your Wisdom Keeper sitting in the heart of your Wisdom Wheel – there to help you stay responsive, flexible, adaptive and creative as you prepare yourself to enter the dance of relationship. 
By the time of the second Venus Webinar (on December 8th), where the Sphere of Attraction is opened, you will have ALL of the Wisdom Keepers on your Personal Wisdom Wheels in place. They'll be sitting exactly where they need to be, providing you with the support, balance, and holding that your heart and soul need to safely and courageously traverse the Land of intimacy (with self and other). You will have created a beautiful council of wise friends, a foundation of trust in yourself, and trust in Life itself.
Again, one of the biggest gifts I'm hoping Wisdom Wheel journeyers will receive over the coming weeks and months is an experience of deep self-trust. Sometimes when we trust ourselves, we find the courage to take leaps and say 'yes' to new experiences. Other times, we find the courage to slow down and embrace greater simplicity.
Follow the flow of your Integrity, and you can't go wrong!
With love,
Rosy
Learn more about the Gene Keys here.
Complete and Continue